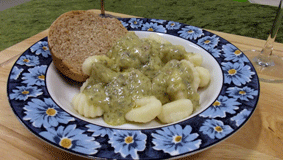 I thought I would share with you the recipe used for the blue cheese sauce I serve with my ricotta gnocchi. It is so simple it only takes minutes to make. Select your favourite blue cheese for this recipe, as they all work equally well.
Ingredients:
1/2 cup cream
125 grams of blue cheese of your choice, cut into small pieces.
Method:
Gently warm your cream in a saucepan until it comes to a boil. Simmer for about 5 minutes, continuing to stir the cream as it begins to thicken.
Add about half of the blue cheese and stir until melted into the cream.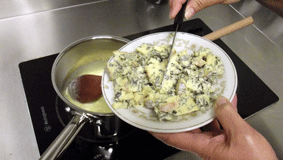 Add the remaining blue cheese and stir it in, but do not let it melt. As soon as the additional cheese is stirred into the cheese and cream mixture remove it from the heat.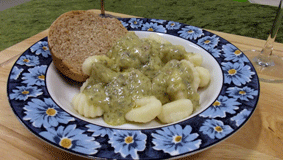 This is an incredibly simple recipe but it looks and tastes so gourmet. Serve this with some of your homemade sourdough bread for a great meal.
As always, live well.
Valerie
(Visited 258 times, 1 visits today)