This is for me an English ferment and I have fond memories of fish and chips on a Saturday night, with a side of Piccalilli, at my Grandparent's house in Birmingham, England when I spent a few months there with them in the 1980s. But while many national fermented foods have a long history, this pickle probably originated in India and was bought back from there in the mid-eighteenth century. It is also called the Indian Pickle and Chow Chow. For me, it has always been Piccalilli.
The key to the flavour for me is that wonderful blend of sweet and sour you get from the two-step process. In the first step, you ferment your vegetables, making this pickle super healthy and good for your gut. In the second step, you drain the fermented vegetables and then add malt vinegar and honey for a powerful, rich flavour that was meant to be eaten with fish and chips, preferably at an English pub. Here is the recipe:
Equipment:
Sharpe knives and a cutting board
A large fermenting jar or fermentation pail
Ingredients:
One medium head of cabbage
Three cups of finely diced seasonal vegetables (Cauliflower, carrots, broccoli, green beans, zucchini, capsicum)
One red onion
Two teaspoons of yellow mustard seed
One teaspoon of ground cumin
Two to three tsp salt (non-iodized)
Two tablespoons freshly grated turmeric root (or one tablespoon turmeric powder)
One tablespoon of diced red chilli (optional)
One to two cups of non-chlorinated water (enough to completely cover the vegetables
Probiotic Vegetable Fermentation Starter (optional)
After Fermentation
1/4 cup of honey
1/4 cup of live malt or beer vinegar
Instructions:
Finely chop all of the vegetables.
Mix vegetables with salt and spices in a big bowl.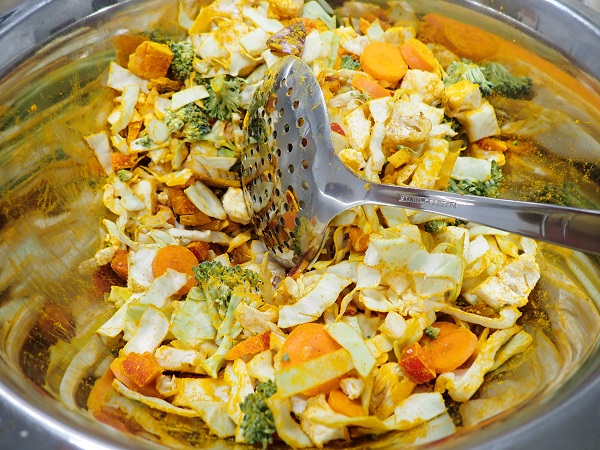 Pack the vegetables into your fermentation pail, leaving enough space to insert the grate. If you are using a large jar, you will need to save a few cabbage leaves to put on top of your ferment to hold the vegetables underneath the fermenting liquid.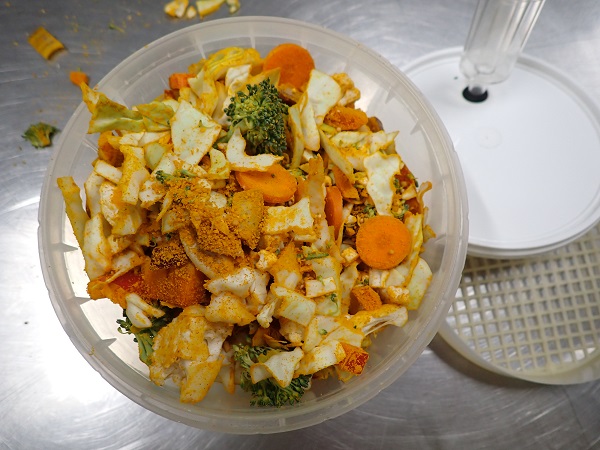 Mix your Probiotic Vegetable Fermentation Starter with one cup of non-chlorinated water. (Optional)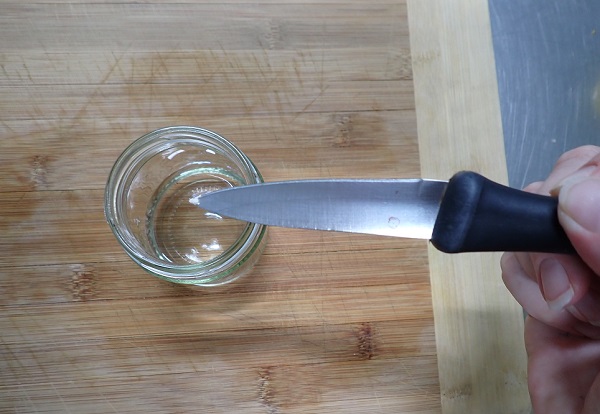 Pour the cultured water over the vegetables. Pack the vegetables down, so they are below the liquid and top up with more non-chlorinated water as needed.
Top the vegetables with either the grate or the cabbage leaves to keep them below the liquid. Let them ferment in a cool, dark place for 3 to 5 days. It will take longer without the culture added. The pantry is perfect. If you are using a jar without an airlock, burp daily so that the pressure does not build up and explode the jar.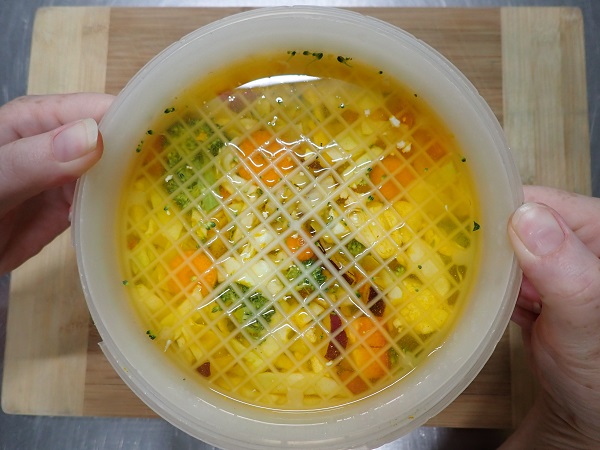 After the fermentation stage, the vegetables should have an acidic taste. The longer you leave it, the stronger this flavour will be. When you are happy with the flavour, drain the excess liquid from the vegetables. You can save this liquid to use as a starter for another batch or use it to make a salad dressing.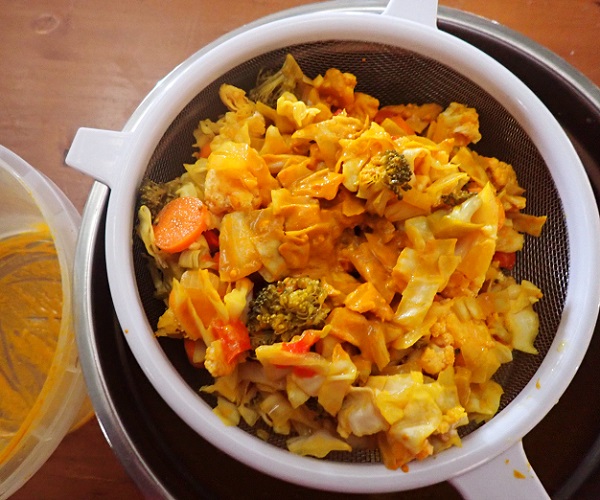 Empty the fermented vegetables into a big mixing bowl. Mix in the honey and malt vinegar.
Taste the piccalilli and add more honey and vinegar to taste.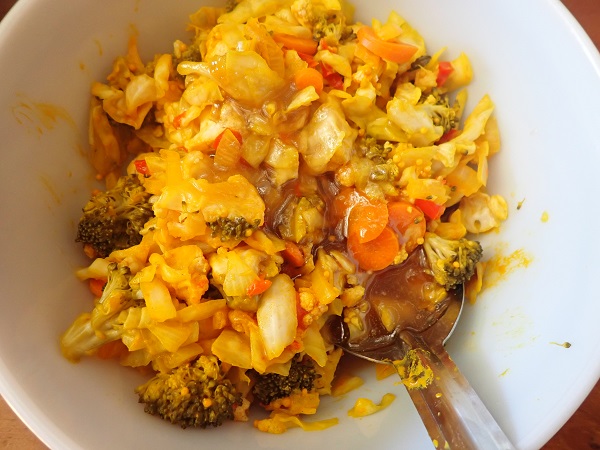 Pack the Piccadilly into the jars and store them in the fridge, ready to eat.
I hope you enjoy this recipe as much as I do. It goes with so many things, but the quintessential English pub fish and chips and always a winner.
As always, live well.
(Visited 1,804 times, 1 visits today)