Covering cheese with cheese wax during the time it takes to mature is an old and still popular method of preventing your cheese from drying out and also keeping it safe from pests and possible contamination. You will need to purchase special food-grade cheese wax. You will also need a natural bristle brush to apply the hot wax. I also have a wax pot. This is just an old pot I no longer use for cooking that I have meted my wax in and there the wax stays between uses.
Depending on how much wax you have, you will either be able to dip your cheese into the wax, or you will need to brush the wax on with a natural bristle cheese wax brush.
You will need to coat your cheese twice to be sure that there are no holes in the wax covering. The hotter the wax the thinner it is, so the thinner the coat will be. Once your wax has been heated on the stove, remove it from the heat and apply your first coat. The wax will cool a little before your second coat is ready to be applied. This will give you a thinner first coat and a thicker second coat. This method of waxing reduces the risk of the wax cracking and exposing your cheese to the air and possible contamination and over-drying during the aging process.
Want to see cheese being waxed? Watch the video below.
Openig a Waxed Cheese
Opening a waxed cheese is easy. Just get a large, sharp knife and cut the cheese in half, wax and all, and then in quarters.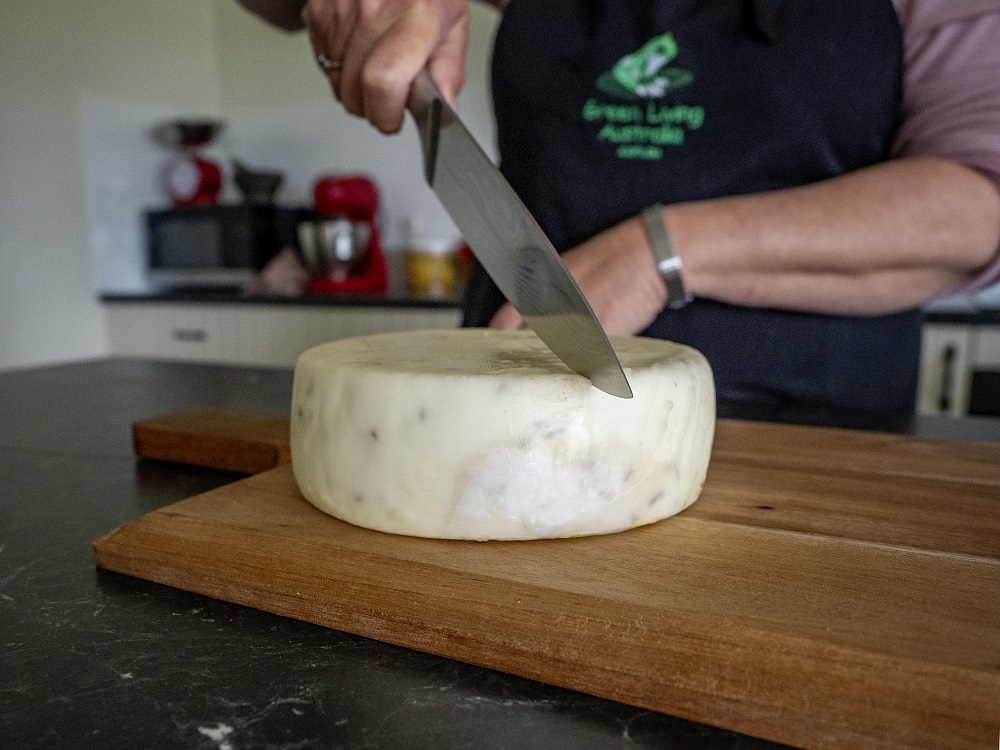 The wax comes right off. Give it a wash and pop it back into the wax pot to be melted down the next time you wax a cheese.
This is so much better than using plastic. Using a wax that can be used again and again is more sustainable. I also believe that it gives me better cheese.
And then there is the serving and eating of the cheese. My favourite part.
As always, live well.
(Visited 281 times, 1 visits today)