It's apple picking season right now in Pozieres, just outside of Stanthorpe, QLD. While there has been no notable cooling of the weather, the apple trees know it is Autumn and picking is getting started at the local farms. I have harvested all of my fruit, except the olives and while it is hot, sweaty work, I don't have that many trees, so it was doen in no time.
I am right next door to one of the largest apple growers and while I was visiting the other week, I was given a big box of apples to take home. I am eating fresh apples every day, but there is just no way anyone could eat that many, so what to do with them all became the question of the week.
Solution No.1. Dehydrator to the rescue.
Apple rings are a great snack and a wonderful way to make those autumn apples last long into winter.
I was lucky enough to find a second had dehydrator in an op shop a few years back. I have been using it on a regular basis to dry my home grown herbs, but now that I have all these apples, it is really getting a workout.
Just peel, core and slice your apples and arrange them on the trays of your dehydrator.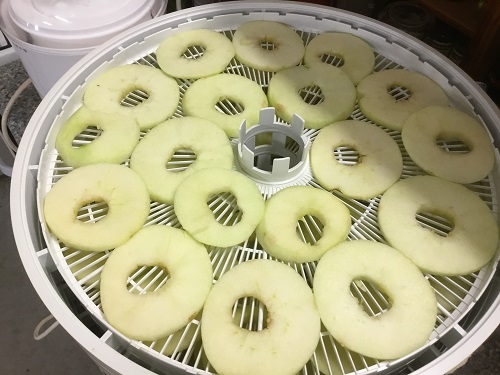 If you want to you can event make up some cinnamon sugar and sprinkle a little on top. These apples were so sweet that I did not need to do this but I did so just on the top layer of the dehydrator, just for something a little different.
Solution No.2. Amish inspired Apple Butter.
This recipe is from my book, Sugar Free Home Preserving. The original Amish style Apple Butter is made with loads of sugar. This is a much healthier option made with honey. Makes 7 to 8 x 250 ml jars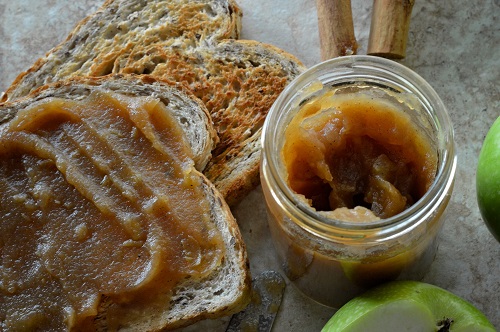 Ingredients:
2.5 kgs of apples, cored and quartered, but not peeled
1 teaspoon cinnamon
½ teaspoon cloves
½ teaspoons allspice
½ teaspoon nutmeg
1 cup honey
Instructions:
Prepare your 250 ml jars and lids by sterilising them in boiling water for ten minutes. The sterilisation step can be skipped and you can use washed, rinsed, hot jars if you are processing for 10 minutes or more in the boiling water bath at the end of the recipe.
Wash your apples, core and quarter them but do not peel them. This adds valuable fibre to your applesauce.
Place them into a pot with just enough water to cover them and cook them until they are tender. This takes about 15 to 20 minutes.
Drain the cooked apple in a colander and then press in small batched through a food mill or use a food processor.
Place the applesauce you have just made into a slow cooker and mix in your honey and spices.
Set the slow cooker on low and cook for six to eight hours or until the mixture has reached the desired consistency. Stir every now and then to ensure your mixture is not sticking. If you do not have a slow cooker, you can do this in a preserving pan on the stove. While it is faster, you will have to keep a closer watch on the pot to ensure it does not burn. This will take about one hour to cook down.
Using a ladle and jar funnel place your apple butter into your hot, 250 ml jars, leaving a two-centimetre headspace. Clean the rims of the jar to ensure you get a good clean seal and cap with your new lids.
Process your filled jars in a boiling water bath for five minutes. Alternatively, if you did not pre-sterilise your jars and lids, process in a boiling water bath for 10 minutes.
This is one of may favourite recipes and I am so lucky to be living in the Stanthorpe area, surrounded by apples, ripe for the picking at this time of year.
Valerie
(Visited 212 times, 1 visits today)