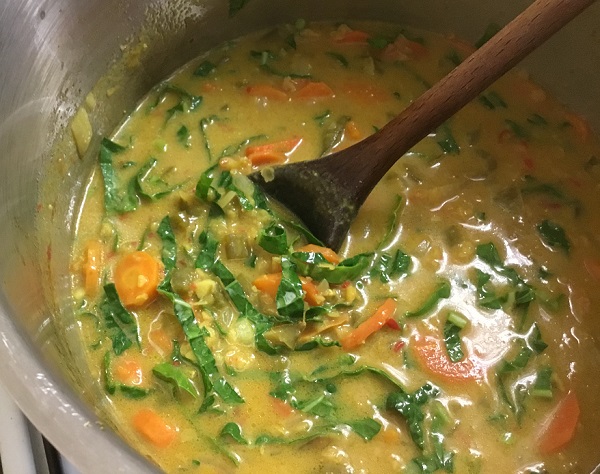 I have a mainly vegetarian diet for several reasons: It has a lower environmental footprint; it is healthier according to epidemiology studies; it is more economical, and I like to grow my own food as much as possible, and livestock is not an option for most people, including me.
One of my favourite things to eat is a vegetable-based curry, full of flavour and aroma. I can make a pot of curry and have it for dinner and still have plenty left over to freeze for later use. I like having ready-made meals in the freezer for those days when I get home late, and I am just not in the mood to cook. I also travel a lot, and I find eating on the road can be very unhealthy, not to mention expensive, so taking my own food with me is a must.
Here is my simple vegetable-based curry recipe. Change it to suit what is coming out of your garden.
Ingredients:
One onion, diced
Several cloves of garlic, diced
Ginger, 2-3 cm, grated 
Chilli, to taste (I used one teaspoon of my own chilli paste made from homegrown, pickled chillies)  
One capsicum, diced
Olive oil, enough to sautee the onion, garlic, ginger, chilli and capsicum  
Two teaspoons each of Turmeric powder,  Cumin powder, Coriander powder, and  Garamassala
One litre of water
One large carrot, peeled and chopped 
One sweet potato, peeled and chopped 
Half a cup of red lentils
Coconut cream 400 ml (try to get one that does not have a large amount of added water)
Salt and pepper to taste
One bunch of kale finely chopped, straight out of the garden is best
Directions:
Place the onion, garlic, ginger, chilli and capsicum into a large heavy-based pot with the olive oil and cook until the onion is tender and beginning to become translucent.
Add all of the spices and mix in well. Continue to cook over medium heat for several minutes. Add a little water if you need to.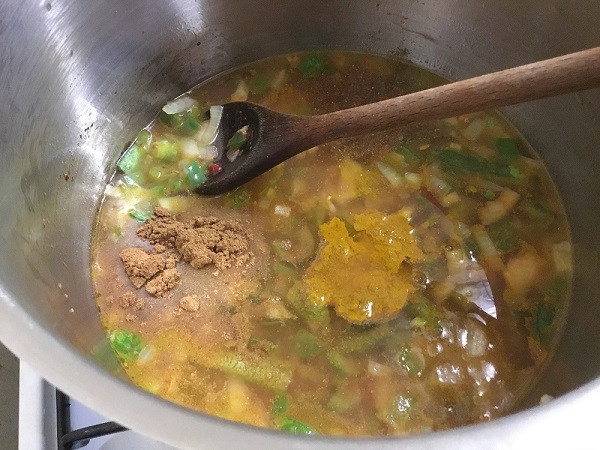 Add the carrot and the sweet potato and mix to coat them with the spices. Cook for several minutes.
Add the water and bring it back to a boil. Cook for 20 minutes.
Add the lentils and cook for a further 30 minutes. The carrot, potato and lentils should now be cooked, and the mixture should have started thickening.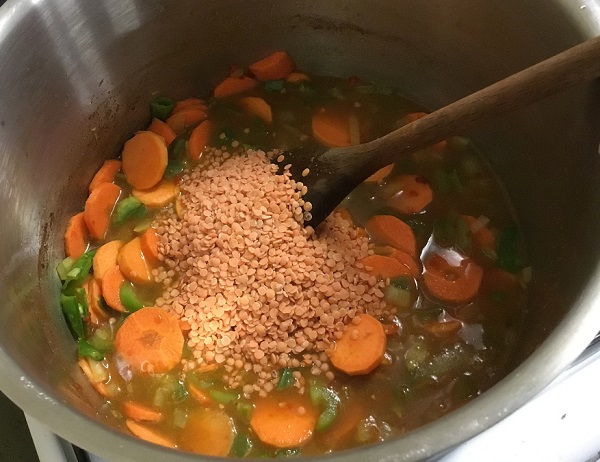 Add the coconut cream and mix through. Return to the boil.
Taste the curry and season with salt and pepper.
When you're happy with the curry, throw in the finely chopped kale and mix it through.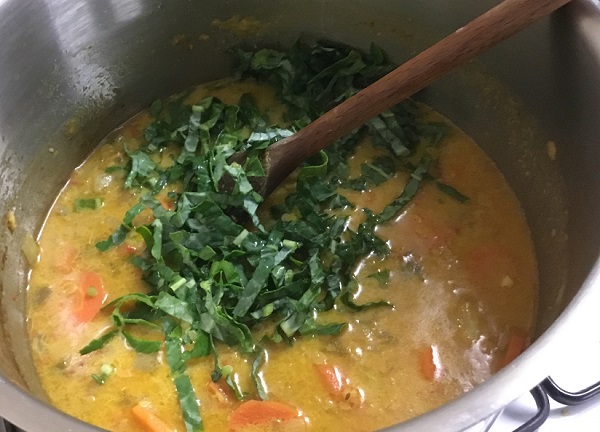 Turn off the heat and let the curry sit for 10 minutes before serving.
Serve this simple, tasty curry with rice or noodles or as a thick soup with crusty, homemade sourdough. It is delicious and healthy and costs very little. Pack some up for lunch the next day and pop some in the freezer for those days when you want someone else to do the cooking.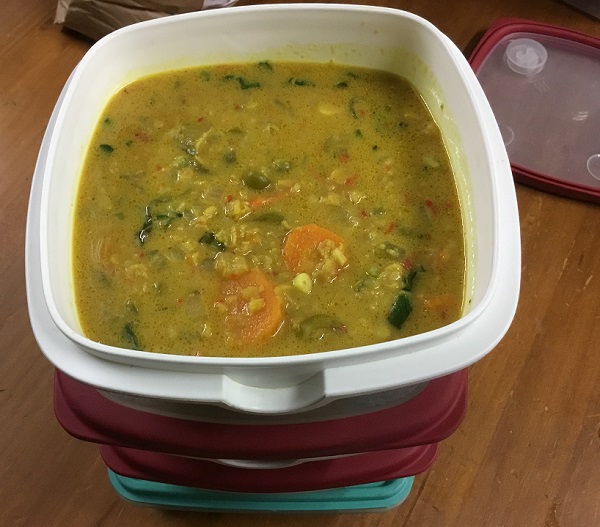 I had enough leftovers for four meals. One went in the fridge for lunch the next day, and the other three when in the freezer. You can make great low-cost meals and have the convenience of something ready-made when you need to if you plan ahead. It's the lost art of Home Economics, something we need to all remember and practice in order to live well and not work ourselves to death trying to pay the bills.
As always, live well.
Valerie
(Visited 469 times, 1 visits today)