SPICE UP YOUR DESSERT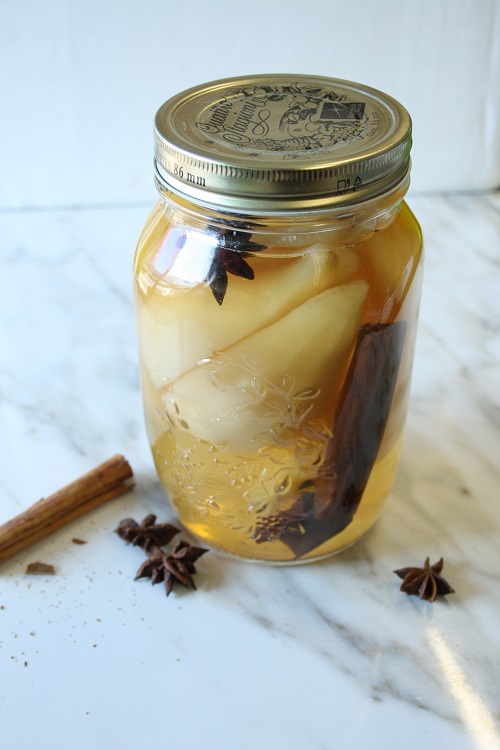 Something about spiced fruit makes me feel warm on a cold winter's day. Added to a moist cake and heated through, it is the perfect dessert to eat while sitting by the fire. I am lucky enough to have an orchard at my home, but if you don't, you can still get great fruit in season and at their best price, then do a little creative preserving, ready for those colder months. This spiced pear recipe is one of my favourites. Even better, I can use xylitol instead of sugar to make a sugar-free version.
Equipment:
3 x 750ml jars with new lids
Large Pot
Sharp Knife
Stainless Steel Spoon
Tongs
Ingredients:
Six pears
2 litres water
400 grams of xylitol or sugar
Three sticks cinnamon
Six whole Star Anise
One lemon (for the peel)
Directions:
Prepare your 750 ml jars and lids by sterilising them in boiling water for ten minutes. For instructions on the water bath method, go to the blog post, Safe Home Preserving with the Boiling Water Bath.
Combine your water and xylitol or sugar in a large pot and bring them to a simmer.
Peel and half your pears and remove the cores. Place the pears into your hot xylitol or sugar syrup and bring them back to a simmer. Simmer for 2 to 5 minutes.
Once simmered, using tongs, place the pears into your previously prepared hot jars.
Add a cinnamon stick, two whole star anise, and fresh lemon peel to each jar.
Top up with the liquid you cooked the pears in, leaving a 2cm headspace.
Process your filled jars in a boiling water bath for 20 minutes.
Delicious for breakfast with toasted muesli and yoghurt or with ice cream for dessert, these pears will have everyone 'oohing' and 'ahhing'!
As always, live well.
Valerie
(Visited 525 times, 1 visits today)