SPICE UP YOUR DESSERT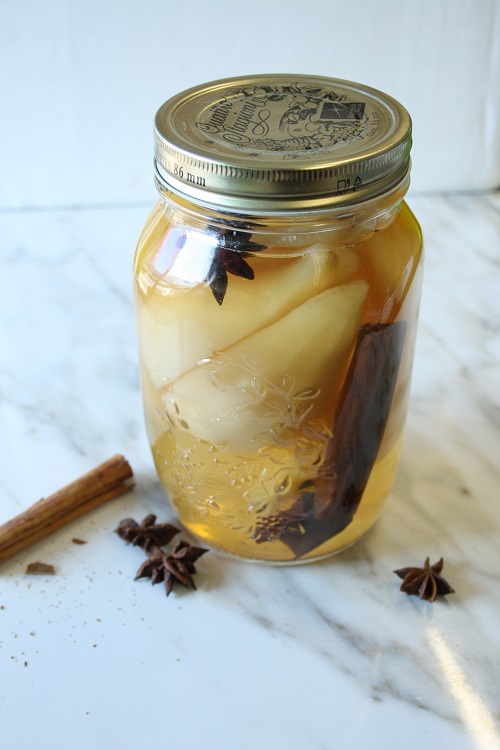 Equipment:
Large Pot
Sharp Knife
Stainless Steel Spoon
Tongs
Ingredients:
6 pears
2 litres water (plus extra water to sterilise the jars)
Three sticks cinnamon
6 whole Star Anise
One lemon (for the peel)
Let's Create!
Method
Prepare your 750 ml jars and lids by sterilising them in boiling water for ten minutes. For instructions on the water bath method head to the Green Living Australia website, under Home Preserving.
In a large pot combine your water and xylitol and bring them to a simmer.
Peel and half your pears and remove the cores. Place the pears into your hot xylitol syrup and bring them back to simmer. Simmer for 2 to 5 minutes.
Once simmered, using tongs place the pears into your previously prepared, hot jars.
To each jar, add a cinnamon stick, two whole star anise and some fresh lemon peel.
Top up with the liquid you cooked the pears in, leaving a 2cm headspace.
Process your filled jars in a boiling water bath for 20 minutes.
Delicious for breakfast with toasted muesli and yoghurt or with ice cream for dessert, these pears will have everyone 'oohing' and 'ahhing'!
We would love to see your creations so tag us in your photos on Instagram or up upload them in the comments section on our Facebook post. We can't wait to see them all!
Ingredients and equipment can be purchased from Green Living Australia www.greenlivingaustralia.com.au
Happy Creating!
(Visited 358 times, 1 visits today)